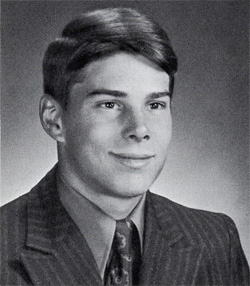 Friends of Vern Jark '72 started an endowment to honor Vern whom many know as a CHS teammate, alumnus, coach, mentor and friend. Once the endowment reaches $10,000, the proceeds from this endowment will go toward an annual scholarship in Vern's name.
The criteria for the Vern Jark Scholarship are listed below
Candidates/Organizations/Departments will be associated with Aberdeen Public School District

Scholarship is for the senior athletes competing in Basketball, Football, Baseball and/or Track

Award will be given yearly

Award will be given to one student until the scholarship amount reaches a level the Foundation Board feels merits granting the scholarship to two or more individuals

Potential recipients will be nominated by their coaches. The athletic director, CHS Principal and assistant principal will review the nominees. The nominees will judged on the following criteria.

Judging Criteria
1). First Criteria – Athlete showing excellence in athletics
2). Second Criteria – Athlete showing excellence in character – specifically in teamwork and leadership
3). Third Criteria – Athlete strives for classroom achievements

The recipient of the Vern Jark Memorial Scholarship shall be named at the annual Central High School awards night

No students, organizations, departments or faculty of the Aberdeen Public School District shall be denied the scholarship on the basis of race, creed sex, religion, handicap or national origin.
Consider supporting this endowment to help honor the past and support the future.
The Vern Jark Memorial Endowment balance has reached $36,781 as of June 30, 2023.
The interest earned from these endowed funds will be utilized to provide financial assistance to students in need. Please contribute to this endowed funding source today and help students for years to come!
For more information about this Endowment, please contact the Foundation Office at 605-725-7118 or Gretchen.Sharp@k12.sd.us.