FULTON JOSEPH "JEFF" LICKFELT '60 MEMORIAL ENDOWMENT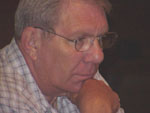 This endowment was started to honor Jeff who showed a strong commitment to education and students. In honor of Jeff's kindness, this endowment will be given to CHS students whose financial situations prohibit them from fully participating in co-curricular activities. The endowment funds will be dispersed based upon the following criteria:
Candidates/Organizations/Departments will be associated with Aberdeen Public School District

Towards students whose financial situation prohibits them from participating in High School co-curricular activities. For example, to help purchase athletic shoes, insurance to participate in events, meals on the road trips, etc.

Endowment proceeds will be distributed based on the approval of the Central High School (CHS) Athletic Director, CHS Fine Arts Director/Assistant Principal and CHS Principal

Due to the sensitivity of students concerning their or their family's financial situation, recipients of this endowment will not be announced
To apply for a Lickfelt Memorial Endowment Grant, please fill out this form and return it to the Foundation office.
As of June 30, 2023 . . .
The Lickfelt Memorial Endowment balance has reached $42,610!
The interest earned from these endowed funds will be utilized to provide financial assistance to students in need. Please contribute to this endowed funding source today and help students for years to come!
For more information about the Lickfelt Endowment, please contact the Foundation Office at 605-725-7118 or Gretchen.Sharp@k12.sd.us.