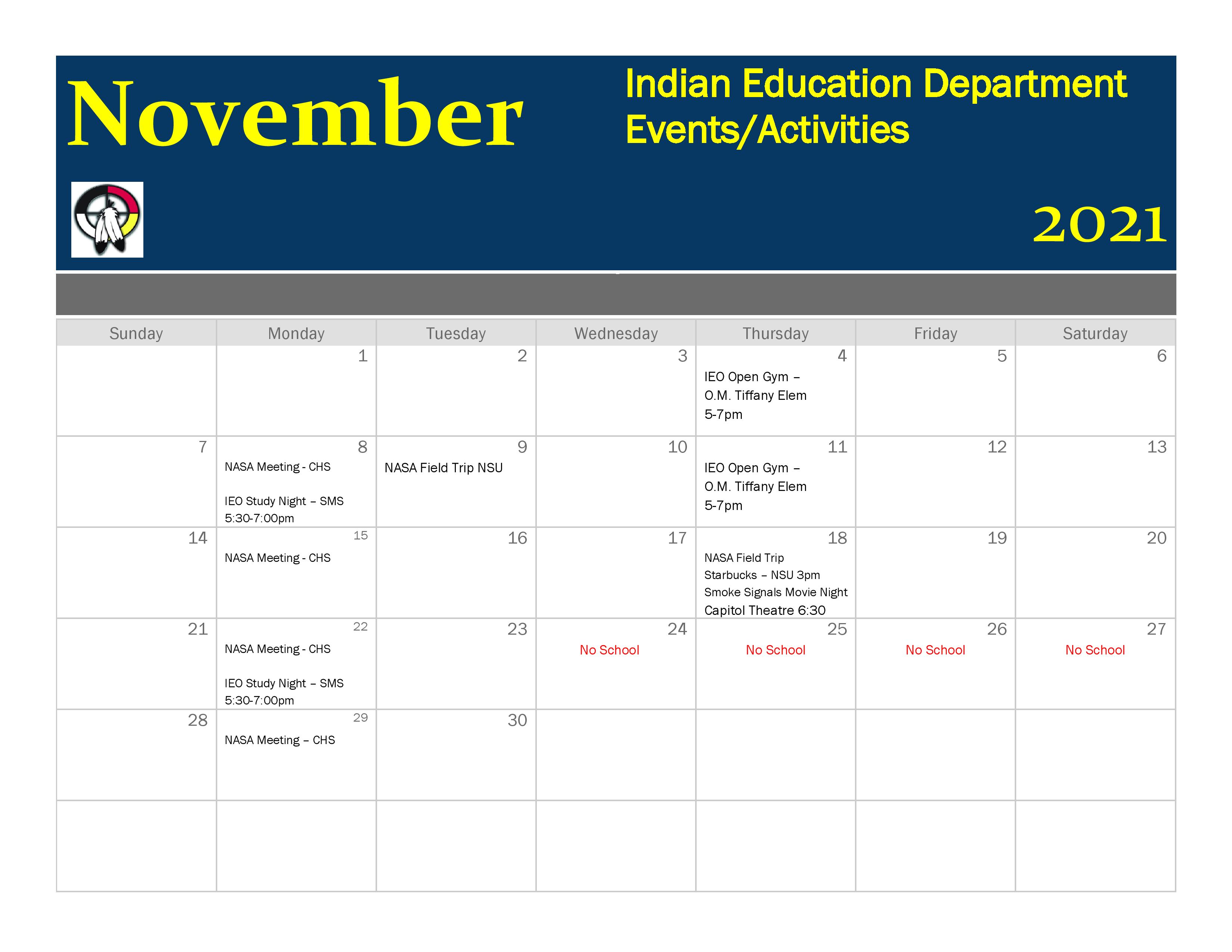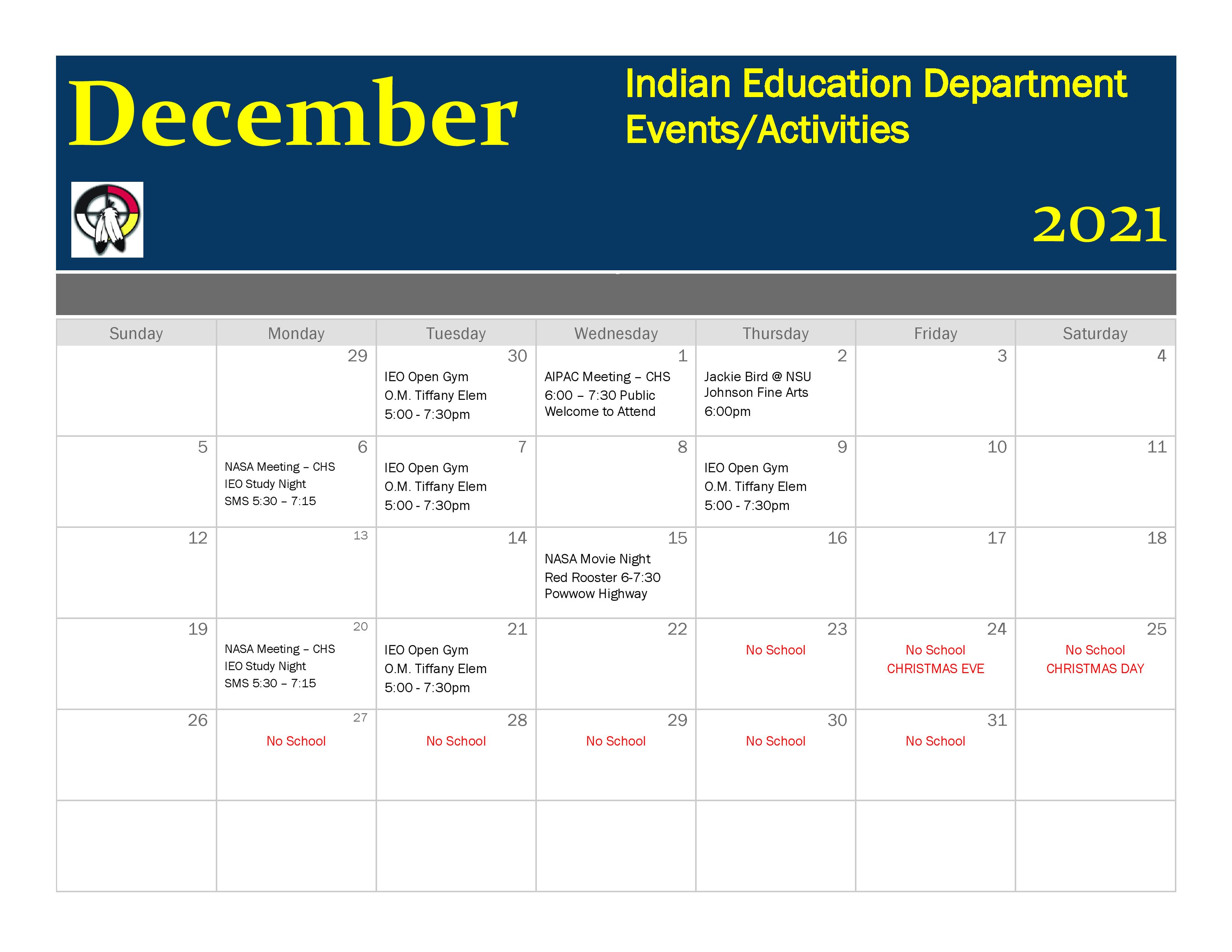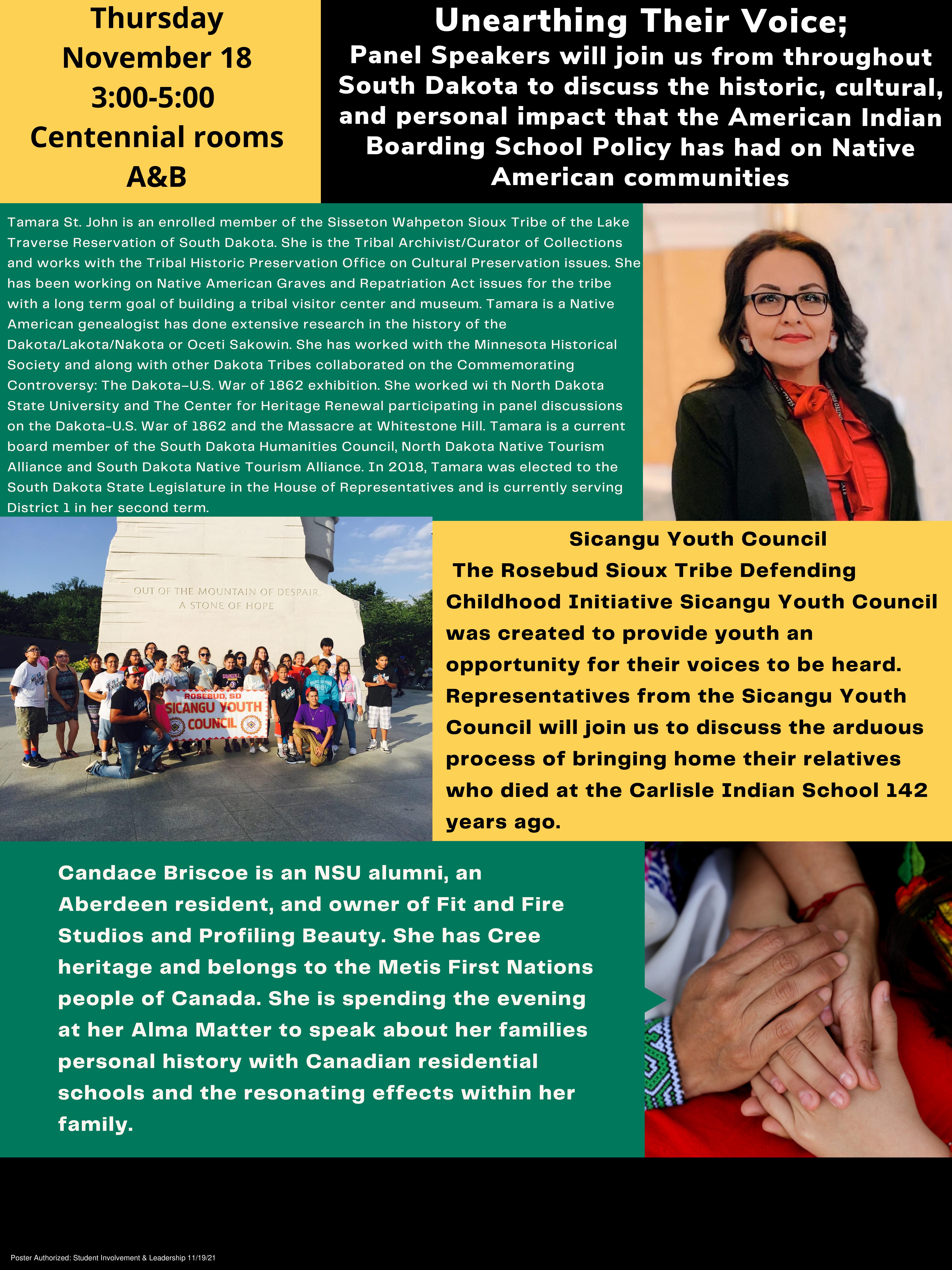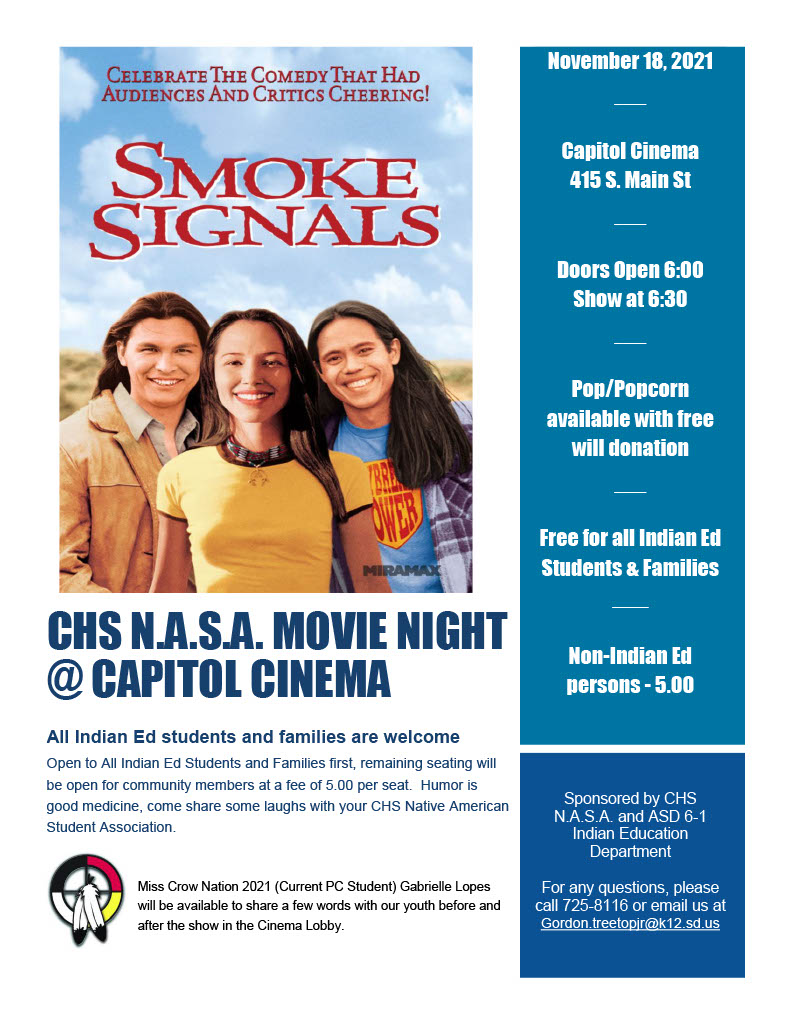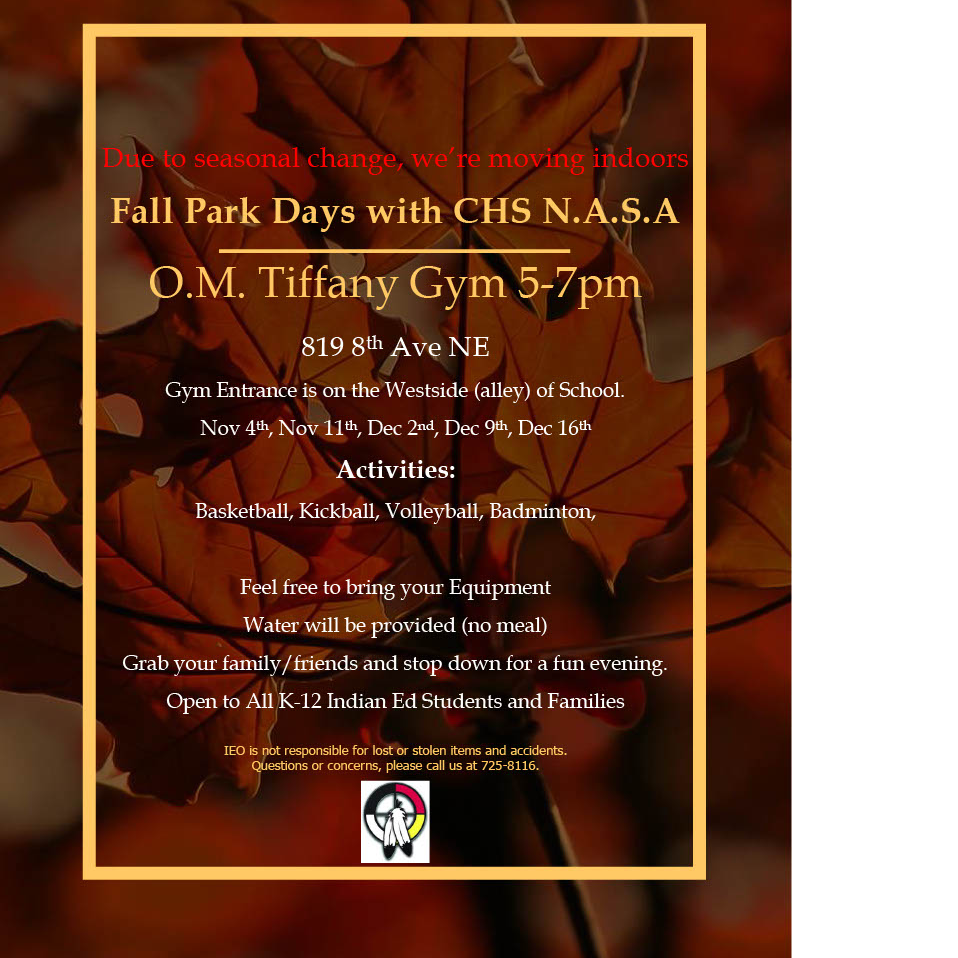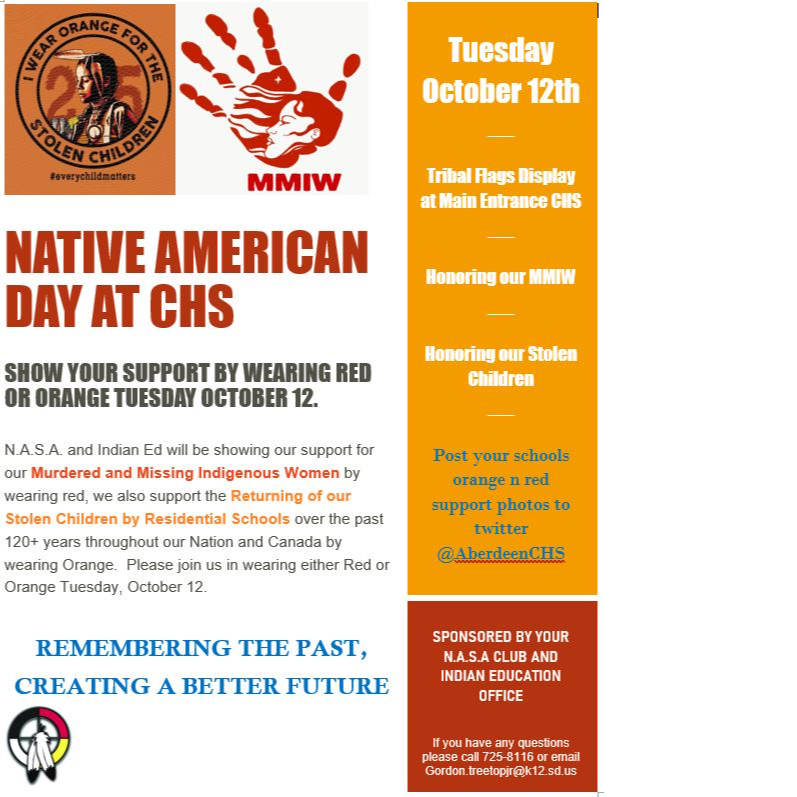 Please call our office number 605-725-8116, our office hours are 8am-4pm Mon-Friday, you can also email us at gordon.treetopjr@k12.sd.us After hours, please leave a voicemail which will be forwarded onto our email for notification.
Philámayaye, Thank you.
Introduction
The Indian Education Program, funded by Title VI and Johnson O'Malley (JOM), intends to meet the specific academic and cultural needs of American Indian students in the Aberdeen School District.
The Indian Education Program is coordinated through the American Indian Parent Advisory Committee (AIPAC), composed of parents and guardians of American Indian students, a district representative and American Indian high school students. They advise the Indian Education Coordinator and Aberdeen School District in the direction and implementation of the Indian Education Program. Meetings are held once a month at a designated location and time. The public is encouraged to attend.
The Indian Education Program supplements already existing programs of the Aberdeen Public School District.
Upcoming Events:
December 2, 2021: Jackie Bird and Family Performance
(Free to all TVI/JOM students)
In collaboration with Presentation College, Northern State University, Dakotah Prairie Museum and the Aberdeen Area Community Foundation, We invite our Aberdeen Community to come together to end our Native American Heritage Month programming with Jackie Bird and Family. Hoop Dancing, Puppetry, Songs and Contemporary Singing to bring our community together.
December 6, 2021: Indian Ed Study Night
Come join us at Simmons Middle School with a meal from 5:30-6:00, Study hour from 6-7 and Culture time from 7-7:20. Open to all TVI and JOM students. We'll have Tutors on hand to assist all students with homework and assignments.
Eligibility: This program is for ALL PK-12 Aberdeen IEO Title VI and/or JOM students. If you are unsure if your child is eligible, please private message this FB page or send an email to gordon.treetopjr@k12.sd.us
**(see below for non-registered TVI/JOM students)
December 7th, 9th and 21st: NASA Open Gym
Our Fall Park Days have gone indoors to the O.M. Tiffany gym for the winter, Open Gym will be held via Indian Ed for all students. Water provided for all participants. Gym is open from 5:00-7:30pm. O.M. Tiffany and IEO are not responsible for accidents, theft or injury. Our IEO Coordinator will be on site for supervision.
Click here to view past events
Please check out the Eligibility, Services & Forms link within the IEO left menu for our JOM School Supply program details. ALL JOM program students K-12 will be approved for $75 towards supplies.