Coach Martens Memorial Endowment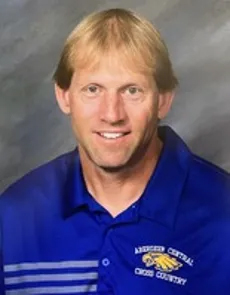 Family and friends of Bill Martens established a scholarship endowment in his memory in December 2022 with the Aberdeen Public Schools Foundation. The endowment funds scholarships for CHS seniors pursuing education and/or coaching with excellent character, athletic excellence, academic excellence and community service. Applicants should show qualities of being a leader, having a hard work ethic and positive mindset. Scholarship will be selected by a committee.
Martens began his teaching and coaching career at Aberdeen Roncalli in 1991, then joined the Aberdeen Public School District in 2002. He briefly taught at Holgate Middle School, but his heart rested with elementary students, which led him to teach physical education at Lincoln Elementary school for the past 19 years. While his focus was at Lincoln, he was a traveling teacher for Simmons Elementary and May Overby Elementary, including a summer position at the South Dakota School for the Blind and Visually Impaired.
Over the span of 32 years, Martens coached football, basketball, track, and cross country at the middle and high school levels. Throughout his coaching tenure, he greatly cherished leading, inspiring, and coaching the girls' cross-country and track teams.
His passion for coaching led him to accomplish Region, ESD, and State titles. He was decorated with many accomplishments, such as but not limited to, South Dakota Coach of the Year, a two-time finalist for National Coach of the Year, and Elementary Teacher of the Year.
Martens was a doting husband, father, grandfather, son, brother, and uncle. He was loved like a brother by many of his coaching colleagues, as well as his students, staff, and all the athletes whose lives he touched throughout the years. Martens passed away at age 54 on October 21, 2022.
The endowment balance as of December 31, 2022, is $9,019.
Those wishing to help support the growth of the Coach Martens Memorial Endowment are asked to contact the Aberdeen Public Schools Foundation.
For more information about the Coach Martens Memorial Endowment, please contact the Foundation Office at 605-725-7118 or Gretchen.Sharp@k12.sd.us.