CHARLOTTE WILSON CLARKE MEMORIAL ENDOWMENT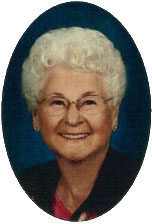 The Charlotte Wilson Clarke Memorial Endowment, established in 2014 provides one $1,000 scholarship for students pursuing a college degree in family and consumer sciences or education. The endowment was funded with an initial gift of $35,000 from Dr. Lester Clarke in memory of his wife, Charlotte.
"She was a very fine teacher, and often her former students commented on how talented she was," said Clarke. Charlotte Wilson Clarke's teaching career totaled 30 years in the classroom during which she taught Home Economics at Aberdeen Central High School for seventeen years. She also enjoyed helping student teachers prepare for careers in education. She was a member of the National Home Economics Association, South Dakota Home Economics Association (where she held several state offices), and the South Dakota Education Association.
Click here for the Charlotte Wilson Clarke Memorial Scholarship Application
As of June 30, 2023. . .
THE CLARKE MEMORIAL ENDOWMENT BALANCE HAS REACHED $60,809!
For more information about the Clarke Endowment, please contact the Foundation Office at 605-725-7118 or Gretchen.Sharp@k12.sd.us.