EDIT MAIN
Foundation News & Events
2020 Aberdeen Central High School Hall of Fame Banquet and Induction Postponed to 2021
Due to the effects of the global pandemic, the Aberdeen Central High School Hall of Fame Committee (a subcommittee of the Aberdeen
Public Schools Foundation) has made the difficult decision to postpone this fall's banquet and indu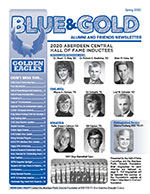 ction until 2021. The Committee's priorities are to keep inductees and guests safe as well as preserve the integrity and uniqueness of the CHS Hall of Fame.
The nine individuals and one team will be inducted into the CHS Hall of Fame during in the fall of 2021, in conjunction with CHS Homecoming Week activities. The 2021 CHS Homecoming date has not yet been determined.
2021 CHS Hall of Fame Inductees
Spring 2020 Blue and Gold Alumni & Friends Newsletter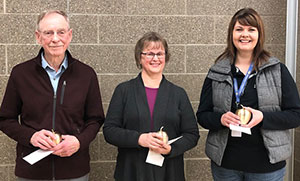 Congratulations to the 2019-20 Golden Apple Award Winners Sara Weischedel, Peggy Letcher and Duane Alm!
There are many scholarships and grants available to current CHS students and CHS alumni. Check out the Scholarships and Grants link.
Aberdeen Central Class Reunion Information
Foundation Innovation Partnership Grant andDistrictCollaboration Grant information
Student/Staff Appreciation:
New Teacher Bags - The APS Foundation welcomes our new teachers each year with Golden Eagle themed bags and items to help them during their first year. Also, all new ASD staff members receive a Golden Eagles window cling.
New family letters - the Foundation welcomes each new family enrolling in the ASD with a letter and Golden Eagles window cling.
Graduation photos – Every year, the Foundation welcomes graduating seniors as Golden Eagles Alumni with a letter and photo of each student receiving their diploma at graduation.
ASD Staff Thank You Baskets - Every year the Foundation sends "Thank you" baskets full of healthy snacks to every school in the district to let our staff know how much we appreciate them.
Nomination Forms:

Congratulations to our 2019 Aberdeen Central High School Hall of Fame Inductees!
(pictured left to right) Roger McCafferty '81, Todd Thorson '89, Sonya Wagner (representing Dallas Hoff '49), Tonia (Burgard) Heath '99, Tracy (Arlt) Anderson '84, Vaughan Hennen (representing Dr. Susan K. Vaughan '65), Dr. Ken Meier '68, Julie M. Johnson '71, Vicki Lust (representing Karen (Lust) McLaughlin '81), Mary Amacher '50-'88 at the CHS Hall of Fame Banquet on September 28, 2019 at Aberdeen Central High School.
Know an outstanding CHS Alumnus? Nominate them for the CHS Hall of Fame!
Donate safely and securely online to the Aberdeen Public Schools Foundation!
For information about initiating a class project or fund, contact Foundation Director, Gretchen Sharp at Gretchen.Sharp@k12.sd.us