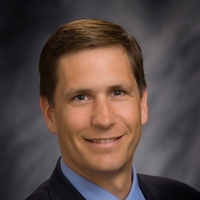 The David Lust Endowment was established in December 2022 by David's family and friends with the Aberdeen Public Schools Foundation. One $5,000 scholarship is funded annually by the David Lust Endowment for CHS seniors and graduates with passion, purpose and potential. This scholarship was created by David's family and friends in his memory and to honor his commitment in making South Dakota a better place to live.
David grew up in Aberdeen and graduated from Aberdeen Central in 1986. He attended Dartmouth College and law school at the University of South Dakota. He was an attorney in Rapid City, where he lived with his family. He served 10 years in the SD House of Representatives and was the Majority leader for 4 of those years.
He was widely respected and a friend to many. He was a civic leader in Rapid City and in the state of South Dakota and was an esteemed member of the state's legal community.
Click here for the David Lust Scholarship application.
The endowment balance as of December 31, 2022, is $92,119.
Those wishing to help support the growth of the David Lust Endowment are asked to contact the Aberdeen Public Schools Foundation.
For more information about the David Lust Endowment, please contact the Foundation Office at 605-725-7118 or Gretchen.Sharp@k12.sd.us.