KURT KRUGER MEMORIAL ENDOWMENT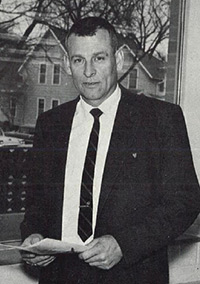 Established in 2015, the Kurt Kruger Memorial Endowment provides one scholarship each year for an Aberdeen Central High School graduate majoring in education. Students must show excellent character, a passion for community service, academic excellence, and involvement in school activities to qualify.
The endowment was funded with an initial gift of $50,000 from Barbara Kruger (CHS Class of '52) in memory of her husband, Kurt ('46) who passed away in 2009. The gift is also supported by their two children Christopher Kruger ('84) and Elizabeth (Kruger) Schneider ('89).
"Kurt had a passion for teaching," said Mrs. Kruger. Kurt Kruger began his career at Aberdeen Central in 1965 teaching Modern Problems and coaching boys' basketball and football. He became Assistant Principal in 1969 and served as CHS Principal from 1978-1985.
"We are very excited about the opportunity to provide potential teacher candidates with this level of support through their teacher preparation program," said Aberdeen School District Superintendent Dr. Becky Guffin.
Click here for the Kurt Kruger Memorial Scholarship application
As of June 30, 2023 the Kurt Kruger Memorial Endowment balance has reached $64,526!
For more information about the Kruger Endowment, please contact the Foundation Office at 605-725-7118 or Gretchen.Sharp@k12.sd.us.