LARRY H. LOVRIEN MEMORIAL ENDOWMENT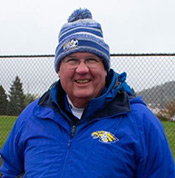 The Larry H. Lovrien Memorial Endowment was established in 2018 by his family and friends, and provides scholarships to CHS boys' soccer players demonstrating the traits of honesty, integrity, hard-work, self-discipline and teamwork.
Lovrien, who passed away unexpectedly in October 2018, devoted his life to public service and community involvement in the hopes of making our community a better place to live. After graduating from Aberdeen Central High School in 1969, he attended the University of South Dakota, where he eventually received a Bachelors, Masters and Juris Doctorate degree.
After serving as a deputy Brown County State's Attorney, Lovrien was appointed as a magistrate judge in 1977. He was then elected by the voters of the 5th Circuit to be a Circuit Court Judge in 1990 and then reelected by the voters in 1998. In 2006, after 29-years on the bench, Lovrien retired and began teaching at Presentation College in Aberdeen. He served as the Chair of the Department of Business, and was most recently teaching business and criminal justice courses. In 2010, Lovrien was elected by the voters to serve as a Director of the James River Water Development District. In 2012, the voters of Brown County elected Lovrien as the State's Attorney; a position he held until 2016.
Lovrien had a passion for soccer and was actively involved in the youth soccer program for over 25-years, serving at the local, state and national level. Lovrien was an Assistant Coach for the Aberdeen Central Boys' Soccer team, serving as a mentor and role model for hundreds of boys who played for Aberdeen Central.
"It's an incredible honor for our family to be able to give back to a program that meant so much to our dad," Lovrien's oldest son, Marshall, said. "For Dad, high school sports was more than wins and losses. It was an opportunity for young people to grow, to make mistakes without permanent consequences, to get another opportunity to succeed when failure occurred and to practice virtues of integrity, hard-work and teamwork until they became habits of character."
As of June 30, 2023. . .
The Lovrien Memorial Endowment balance has reached $13,793!
For more information or to contribute to the Lovrien Endowment, please contact the Foundation Office at 605-725-7118 or Gretchen.Sharp@k12.sd.us.