JEANETTE HURRELL MEMORIAL ENDOWMENT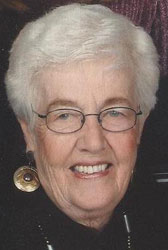 The Jeanette Hurrell Memorial Endowment provides two scholarships for students pursuing their baccalaureate degree in nursing. Students must show determination for classroom academic achievement, financial need, and involvement in school activities to qualify.
The endowment was funded in 2012 with an initial gift of $100,000 from William Hurrell in memory of his wife, Jeanette. A separate gift from the Hurrell family funded automatic external defibrillators, commonly known as AEDs, at each of the public elementary schools, which at that time had none.
"My late wife, Jeanette, enjoyed a long career as Health Administrator for the Aberdeen Public School System. While she gave a great deal of her life to the schools and its children, the school system gave her a long and rewarding career," said Hurrell. "Unfortunately her life was cut short and she passed away in 2009. I would now like to honor her long legacy with the Aberdeen Public Schools by giving back to the institutions she so loved."
Jeanette Hurrell began her career around 1960 with the school system as a nurse within Central High School. Over the course of a 35 year career, she built a small school health program into a broad program of health initiatives, screenings and education to meet the needs of all public school children in Aberdeen. She also recognized that health begins at home. Jeanette commonly went to the student's home to provide clothing and food for children in need. What began as a small health office in a high school and basic screenings in the elementary schools, grew into a model program of school health administration.
Click here for the Jeanette Hurrell Memorial Scholarship application

As of June 30, 2023. . .
The Jeanette Hurrell Memorial Endowment balance is $133,100.
For more information about the Hurrell Endowment, please contact the Foundation Office at 605-725-7118 or Gretchen.Sharp@k12.sd.us.