DON AND ROSEMARY RESHETAR MEMORIAL ENDOWMENT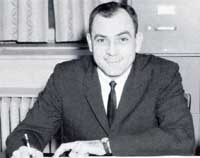 The family and friends of Don and Rosemary Reshetar are remembering this great couple by creating an endowment in their memory.
Don and his wife, Rosemary, moved their young family to Aberdeen in 1960. Here Don worked as a teacher, coach and administrator for over 30 years. Don was head football coach from 1960-1972. He was Athletic Director for 22 years and was named SD High School Athletic Director of the Year in 1982. The field house at Clark Swisher Athletic Complex was named in his honor along with coach Jim Kretchman in 2006. In 2008 he was inducted into the CHS Hall of Fame. He was on the Aberdeen Public Schools Foundation Board from 2003-2010.
"This Scholarship helps pay tribute to an exceptional coach and his family. May we always remember Don and all he and Rosemary have done to support CHS," said Gene Brownell, CHS Athletic Director.
Now that it has reached over $10,000, this endowment provides an annual scholarship to a CHS senior, who shows excellence in athletic, character, and classroom achievements.
As of June 30, 2023. . .
the Don and Rosemary Memorial Endowment balance has reached $26,994!
Don and Rosemary will be remembered for all they did for CHS and the Aberdeen community. If you are interested in contributing to this scholarship endowment, please contact the Foundation office at 605-725-7118 or e-mail Gretchen.Sharp@k12.sd.us.