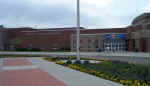 Honor your memories with an engraved brick around the CHS flagpole.
Supporters of Aberdeen Public Schools are literally writing their names in stone. Over 50 alumni, friends and businesses have purchased bricks at CHS.
Engraved with messages, these bricks honor the memories imprinted upon the hearts of many CHS graduates.

The bricks are located at the front of the CHS building beneath a large American Flag.

Bricks are still available for you to share your message. Contact the Foundation to sponsor a brick for the one-time tax deductible gift of $150.00.