EDIT MAIN
Giving Opportunities
The Foundation receives gifts in amounts ranging from $5 to $25,000 each year! The Foundation values each and every gift for the special reason it is given by the donor.
You can utilize our secure PayPal online donation system to make your tax deductible gift today. Make a donation on-line through PayPal by clicking on the icon below.
Or mail your gift to:
Aberdeen Public Schools Foundation, Inc.
1224 South 3rd St.
Aberdeen, SD 57401
General Gifts through the Eagle Pride Society:
Unrestricted gifts allow the Foundation to place our financial resources where they are needed most by our K-12 students and staff.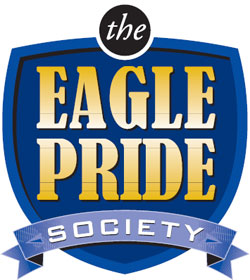 We invite you to become a partner in this important giving club with an annual commitment. Your annual gift will ensure that the Aberdeen Public Schools Foundation continues to build upon and enhance educational opportunities for students and staff.
Benefits of the Eagle Pride Society Membership include:
Regular listing of your contribution in the donor honor roll included in the Foundation's Blue and Gold semi-annual newsletter.
Invitations to special events including the Central High School Hall of Fame banquet
Most importantly, the satisfaction of knowing your gifts are helping to make a difference in the educational experience of Aberdeen's youth!
Eagle Pride Society Sponsorship Levels:
Eagle Pride Society Sponsorship Levels:

Distinguished Partner
$25,000 +
Anchor Partner

$10,000 to $24,999

Founding Partner

$4,000 to $9,999

Premier Partner

$1,000 to $3,999

Eagle
$500 to $999
Gold Star
$250 to $499
Blue Star
$100 to $249
Contributor
$50 to $99
Friend
$1 to $49

Restricted Gifts:
Restricted Gifts are earmarked by the donor for a particular project or program within the school district. Examples include gifts given for an endowment, student scholarship, Foundation grant program, Rising Scholars program, etc.Restricted Gifts:
Honorary Gifts/Memorials:
Many alumni and friends provide gifts in honor of or in memory of a loved one, former teacher, or fellow classmate. These gifts may be given for general Foundation purposes or restricted per the donor's wishes.
Please contact the Foundation Office for more information about making a gift. Don't forget that a matching gift from your employer can double your donation to the Foundation.
"My husband Jason and I support the Rising Scholars Endowment through the Aberdeen Public Schools Foundation because we feel this is a very beneficial program for CHS seniors. The program encourages high school seniors to get a "feel" for college courses while providing tuition reimbursement. The demands for this program will only increase. My employer, New York Life, also offers an Educational Matching Gift Program so our gift is doubled. We feel this is a great way to give back to our community. "
Cheryl (Eisenbeisz) Lorenz, CHS Class of 1981
Buy A Brick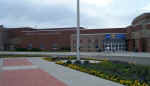 Honor your memories with an engraved brick around the CHS flagpole.
Supporters of Aberdeen Public Schools are literally writing their names in stone. Over 50 alumni, friends and businesses have purchased bricks at CHS.
Engraved with messages, these bricks honor the memories imprinted upon the hearts of many CHS graduates.
The bricks are located at the front of the CHS building beneath a large American Flag.
Bricks are still available for you to share your message. Contact the Foundation to sponsor a brick for the one-time tax deductible gift of $150.00.
Actual Brick Pictured Below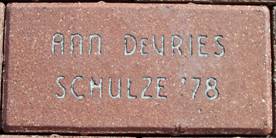 Legacy Lockers
You are invited to remember your association with Aberdeen Central Sports
by purchasing a locker for the Reshetar/Kretchman field house at the Swisher Field Complex.
Lockers can be purchased for a variety of reasons: to honor a coach, to remember parents, to recognize a friend or loved one, or to celebrate memories at Central High School.
Your message will be engraved on the locker number of your choice
To purchase a locker for $250, contact the Foundation with any questions or for more information at 605-725-7118.