The Foundation receives gifts in amounts ranging from $5 to $25,000 each year! The Foundation values each and every gift for the special reason it is given by the donor. Your gift supports projects like:
Hydroponics equipment for agriculture education classrooms and eSports equipment at Central High School

Makerspace enhancements at all elementary schools

iPad keyboards and Strider bikes for elementary classrooms

Briggs & Stratton engines and Project Lead the Way drones, software and computer science curriculum for middle schoolers

The Blue & Gold Alumni and Friends Newsletter

Scholarships and grants and more!
Let us know how you want to make a difference in any of our programs or endowments.
Donate online today!
Use our secure PayPal online donation system to make your tax deductible gift today. Make a donation online through PayPal by clicking on the icon below.
Aberdeen Public Schools Foundation, Inc. 1224 South 3rd St. Aberdeen, SD 57401
Eagle Pride Society is a powerful source of unrestricted funding that is critical to the continued success of the APS Foundation. Gifts to the Eagle Pride Society have an immediate impact on today's students, staff and schools.
We invite you to become a partner in this important giving club with an annual commitment. Your annual gift will ensure that the Aberdeen Public Schools Foundation continues to build upon and enhance educational opportunities for students and staff.
Benefits of the Eagle Pride Society Membership include:
Regular listing of your contribution in the donor honor roll included in the Foundation's Blue and Gold semi-annual newsletter.

Invitations to special events including the Central High School Hall of Fame banquet

Most importantly, the satisfaction of knowing your gifts are helping to make a difference in the educational experience of Aberdeen's youth!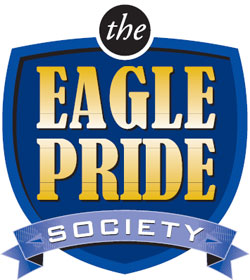 | Eagle Pride Society Sponsorship Levels: | |
| --- | --- |
| Distinguished Partner | $25,000 + |
| Anchor Partner | $10,000 to $24,999 |
| Founding Partner | $4,000 to $9,999 |
| Premier Partner | $1,000 to $3,999 |
| Eagle | $500 to $999 |
| Gold Star | $250 to $499 |
| Blue Star | $100 to $249 |
| Contributor | $50 to $99 |
| Friend | $1 to $49 |
Recurring gifts - One of the biggest barriers to even more impact is that we often don't have certainty about how much money will come in during a given year. Many people choose to make a recurring gift because it allows us to plan more thoughtfully and make the most of your donations. And you can always cancel it if you change your mind.
Restricted Gifts allow donors to support an area that is personally meaningful to them. Gifts can be designated to a specific school, program or other area of interest. Examples include gifts given for an endowment, student scholarship, grant program, etc.
Memorial and Honorary Gifts honor someone special with a gift supporting the Aberdeen Public Schools Foundation. Many alumni and friends provide gifts in honor of or in memory of a loved one, former teacher, or fellow classmate. These gifts may be given for general Foundation purposes or restricted per the donor's wishes.
Matching Gifts are a way to multiply your generosity through your employer's matching gift program. Many companies will also match gifts made by retired employees, directors and spouses. Contact your human resources office to find out if your company has a matching gift policy.
Stock Gifts support our Aberdeen Public Schools simply and quickly with gifts of appreciated stocks and mutual funds.
Non-Cash Gifts, such as such as pledges, gifts-in-kind and real estate, are accepted by the APS Foundation.
Donor Advised Fund (DAF) gifts/grants may be made through your DAF sponsor. When you make a Donor Advised Fund grant to the APS Foundation, it is possible that the sponsoring organization may not share your information with us. Please send us a note at Gretchen.Sharp@k12.sd.us when you've made a gift so we can make sure to thank you and ensure that your gift gets to where it is intended.
Endowments are the bedrock of the APS Foundation's private support. Endowed gifts are those given to the Foundation that remain in perpetuity because only the income earned on the principal sum is awarded. Endowed gifts help provide for the future strength and sustainability of our Aberdeen Public Schools.
Scholarships are one of Aberdeen Public School students' greatest needs. Donors can choose to donate to an existing scholarship or create a named scholarship of their own. Many of our students rely on financial aid for their post-secondary education, and more scholarships are always needed.
Planned Gifts are carefully designed to help you meet your philanthropic and financial goals.
"My husband Jason and I support the Rising Scholars Endowment through the Aberdeen Public Schools Foundation because we feel this is a very beneficial program for CHS seniors. The program encourages high school seniors to get a "feel" for college courses while providing tuition reimbursement. The demands for this program will only increase. My employer, New York Life, also offers an Educational Matching Gift Program so our gift is doubled. We feel this is a great way to give back to our community. " Cheryl (Eisenbeisz) Lorenz, CHS Class of 1981