ALONZO WARD III MEMORIAL ENDOWMENT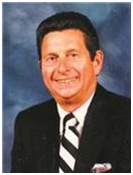 The Alonzo Ward III Memorial Endowment was established by the Aberdeen Pubic Schools Foundation Board with a gift from the estate of Alonzo Ward III. The endowment funds grants for the Aberdeen Central Culinary Arts and Restaurant Management programs.
Alonzo LaRue "Skip" Ward III was born in Aberdeen, South Dakota, on January 4, 1929. He passed away on June 12, 2015, from pulmonary fibrosis. His parents were Vivian Foncanon Ward and Alonzo L. Ward Jr. He graduated from Aberdeen Central High School in 1947.
Skip served two years in the U.S. Army from 1951 to 1953 and was a graduate of the School of Hotel Admin. at Cornell University in 1955. He went on to have a career in the hotel industry including 15 years with Hilton hotels, as well as held management positions with Radisson hotels and the Hospitality Management Company.
In retirement, Skip was an active golfing member of the La Jolla Country Club and past president of the Super Seniors Golf Group, at LJCC. He volunteered at Mercy Hospital, Scripps Clinic and delivered Meals on Wheels for 10 years.
As of December 31, 2022. . .
The Alonzo Ward III Memorial Endowment balance has reached $58,377!
For more information about the Alonzo Ward III Memorial Endowment, please contact the Foundation Office at 605-725-7118 or Gretchen.Sharp@k12.sd.us.