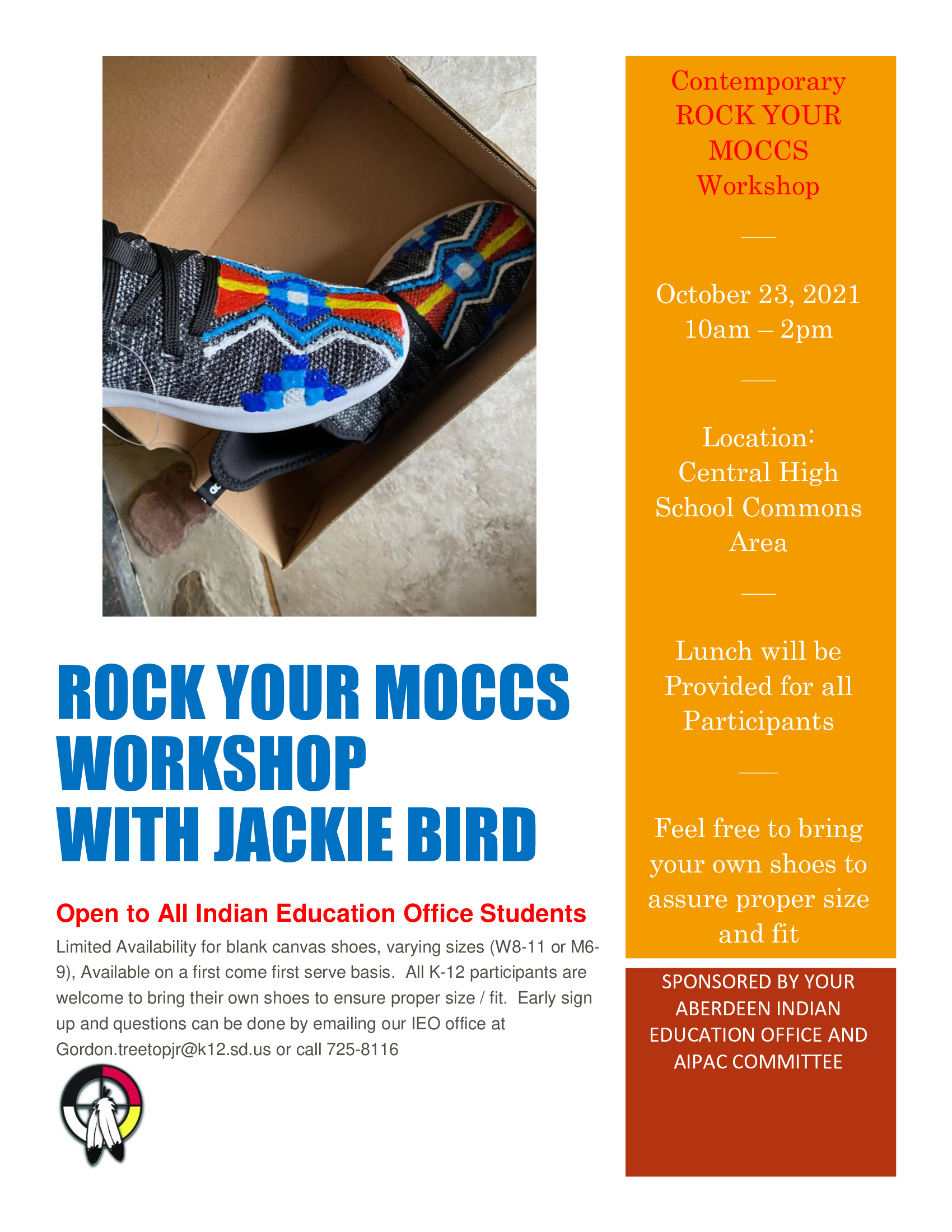 Please call our office number 605-725-8116, our office hours are 8am-4pm Mon-Friday, you can also email us at gordon.treetopjr@k12.sd.us After hours, please leave a voicemail which will be forwarded onto our email for notification.
Philámayaye, Thank you.
Introduction
The Indian Education Program, funded by Title VI and Johnson O'Malley (JOM), intends to meet the specific academic and cultural needs of American Indian students in the Aberdeen School District.
The Indian Education Program is coordinated through the American Indian Parent Advisory Committee (AIPAC), composed of parents and guardians of American Indian students, a district representative and American Indian high school students. They advise the Indian Education Coordinator and Aberdeen School District in the direction and implementation of the Indian Education Program. Meetings are held once a month at a designated location and time. The public is encouraged to attend.
The Indian Education Program supplements already existing programs of the Aberdeen Public School District.
Upcoming Events:
TBA Fall 2020- Kyal and Kansas Middletent, details TBA
April 2020: IEO Indigenous Art Studio - Canvas Painting
(FREE to all TVI/JOM students)
In Studio #1 IEO has collaborated with Aberdeen's Colorful Creations to provide a 8x10 canvas grab-n-go kit to our PK-12 IEO students in Aberdeen. We are putting together masterpieces to share the Indigenous connection to the Eagle, Bison and Dream Catcher. Don't forget to share your completed work with #AIEO_eagles
Eligibility: This program is for ALL PK-12 Aberdeen IEO Title VI and/or JOM students. If you are unsure if your child is eligible, please private message this FB page or send an email to gordon.treetopjr@k12.sd.us
**(see below for non-registered TVI/JOM students)
Ordering: It's FREE. Click the link below and place your order (putting your child's name in the order check out). Have multiple children? Families are encouraged to include all children within one order to ease pick-up process. Orders take up to 24 hours to fill.
https://www.thecolorfulcreations.com/store/p208/AIEO_eagles.html#/
**If you are not part of our program, we ask that you complete the TVI form. This form can be emailed to you upon request, or can be picked up at Colorful Creations with your order. We just ask that you leave the completed TVI form at Colorful Creations. IEO team will connect with you to share the many more resources available in being a part of our TVI/JOM programs.
Click here to view past events
Please check out the Eligibility, Services & Forms link within the IEO left menu for our JOM School Supply program details. New this 2019-20 year - ALL JOM program students K-12 will be approved for $75 towards supplies.