EDIT MAIN
Alumni Room
When "Old" Central moved to "New" Central in 2004, items were left that new Central had no space for. In 2008 Dave Eckert of the Aberdeen Recreation and Cultural Center (ARCC) of Aberdeen contacted the Aberdeen Public Schools Foundation asking what should be done with all the paraphernalia. The Foundation contacted various parties to see if there was an interest in restoring the items, and found people willing to do the job.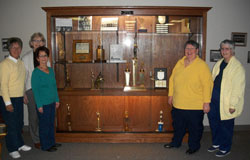 The trophies were cleaned of tarnish, and put in chronological order. Pictures were taken to Dave Arlt and re-framed with new glass. Blue and Gold newsletters and yearbooks were assembled in chronological order.
Now what to do with them? The ARCC offered a wonderful room on the first floor of Old Central to display the many items, as well as a storage room upstairs for additional memorabilia.
Dave Eckert continues to give tours (by request) of Old Central to Central High School class reunion groups. When reunion groups finish their tours, they stop by the Alumni Room and view their yearbooks, Blue and Golds, trophies and other items from their years at CHS to aid in their.
Since opening the Alumni Room, the Foundation has received many gifts from various class reunions and alumni. As a result of their generosity, there are shadow boxes and several large trophy cases beautifully displaying trophies and other memorabilia items.
The Alumni Room is open from 8-5 Monday-Friday for drop in visitors or by contacting the ARCC desk at 605-626-7015. The Alumni Room is also staffed by volunteers on most Fridays from 1:00 - 3:00 pm during the summer months.
(Pictured above left are vintage CHS jersey-style shirts donated by Wally Wingert of the Class of '79. Pictured above right are CHS letterman's jackets.)

Thank you to every one who has generously shared CHS memorabilia with the Foundation for the Alumni Room! What a great source of pride the Alumni Room is for all CHS alumni and friends! If you have memorabilia items to donate, please contact the Foundation Office.