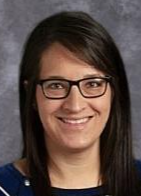 Kelsey Scarborough
Assistant
Principal
Welcome to Simmons Middle School, the home of approximately 540 students in grades six through eight along with 50 certified and classified staff members. We are proud to be working and educating our students in our beautiful facility, located at 1300 S. 3rd Street. In addition to large, bright classrooms, we also have a main gym and an auxiliary gym we use for physical education classes and athletic practices.
Simmons Middle School is named for John C. Simmons, the Aberdeen businessman who donated the land for the school as well as Simmons Field. He was instrumental in developing the southern part of Aberdeen and was a benefactor to many causes. The original portion of SMS enrolled students in January 1928. An academic addition was added to the school in 1959 and in 1965 a music wing and the main gym were completed. Our most recent addition, an all new academic building along with an auxiliary gym, was completed in 2008 and the 1928 building was demolished. Our current building also features new heating and cooling systems as well as a cafetorium.

In the fall of 2001, Simmons made the transition from a junior high with grades 7-9 to a middle school with grades 6-8. We are proud to deliver a comprehensive middle school curriculum that is consistent with contemporary middle level developmental research and practices.
Middle school is a time of change. The work load and social adjustments are great here. While our main emphasis is in the academic area with a core offering of math, science, social studies, language arts, reading and health/pe, we offer our students numerous opportunities to participate in extra-curricular activities also.
On behalf of the entire faculty and staff, I wish you a most excellent school year. I hope that your years with us will be educational and profitable. Take advantage of all that we have to offer-get involved!
Colleen Murley, Principal