EDIT MAIN
O.M. Tiffany Elementary School

On behalf of the staff and students I welcome you to O.M. Tiffany Elementary School. O.M. Tiffany is located at the intersection of 8th Avenue North and Dakota Street.
Our school is named after Oliver Matthew Tiffany (1877- 1949). Born in Minnesota, Mr. Tiffany came to Aberdeen in 1916 and purchased a laundry business. In addition to owning Tiffany Laundry, Mr. Tiffany held several civic positions. He was a State Representative, School Board Member, and Mayor of Aberdeen.
O.M. Tiffany Elementary opened in 1941 with 185 students. The original school had eight classrooms. Additions were completed in 1953, 1961, 1965, and 2010. Today, O.M. Tiffany is a three section K-5 school with an enrollment of 360 students and 40 staff members.
We have a dedicated and caring staff whose main concerns are for the education, safety, and welfare of the children we serve. We stress student responsibility for choices made and want our students to excel in academics and civics. We incorporate the 6 Traits of Character Education into our daily routines.
O. M. Tiffany is a School-Wide Title I school that provides additional services in the areas of reading and math.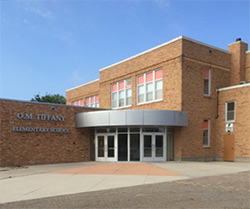 Our PTA is very involved and supportive of the students and staff. In the last few years our PTA has donated playground equipment, electronic sign and numerous classroom supplies.
We invite you to visit our school. We are very proud of our students, families, and staff and the learning opportunities they experience together each and every day.
Go Eagles!
Jared Ahlberg, O.M. Tiffany Principal